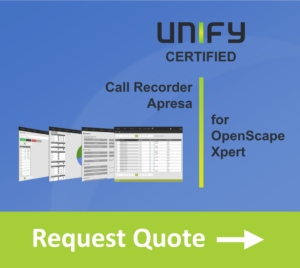 Call Recorder Apresa
is a versatile and economical solution to record up to 1000 calls simultaneously. It is fitted with advanced and proven features to meet PCI-DSS, MIFID II and GDPR regulations with ease.
Apresa offers seamless integration with OpenScape Xpert to record all communication and telephone calls using the Session Recording Protocol (SIPREC). In addition to the audio, the Apresa System stores metadata like the agent's name and telephone number of the caller.
Call Recorder Apresa is available as rack equipment, but also as a software-only solution, and is certified by Unify / Atos.
---