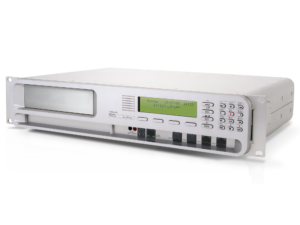 The Call Recorder ISDN II models are the ideal recording solution for small and medium sized businesses, recording telephone calls from ISDN-2 (also known as Basic Rate Interface or BRI). Its features are, among others, conference mode and pass through mode. The Call Recorder ISDN II is a solution that will fit into your recording needs….always. It's standard housing is the desktop version. It is also available in 19″ rack. The Call Recorder ISDN II is reliable and versatile. It has features and capabilities like Recording On Demand (ROD), Caller-ID filtering, Call Marking, Threatening mark mode, online notification and many more.


The Call Recorder ISDN II comes in two basic models:
010.02110 Call Recorder ISDN II with 2 ISDN basic rate ports (4 recording channels) 41.000 hours
010.02112 Call Recorder ISDN II with 4 ISDN basic rate ports (8 recording channels) 41.000 hours
Optional 19″ professional rack mount product housing (Article no: 010.02086)
Pass through mode
The Call Recorder ISDN II can use the Vidicode "Pass Through Mode". Some of the possibilities of the Pass Through Mode, answer the telephone, give the notification message and then connect to the PABX. Various settings for selective recording, for example via a command from the telephone keys (** star commands) or based on internal or external number recognition (Caller ID). It can withhold internal telephone numbers on an outgoing call (CLIP Filtering).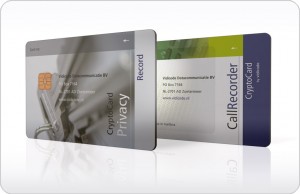 Securing recordings with CryptoCards (optional)
The Call Recorder ISDN II is equipped with an IC Card reader. Using the CryptoCard, available as an option, the recordings can be encrypted. Without a corresponding CryptoCard and pin code the encrypted recordings cannot be played back. This is not only a professional way to protect the calls, but is especially useful to protect the privacy of the people involved.



Optional Software
Call Recorder Access System
The Call Recorder Access System (CRAS) is a solution to manage massive recording databases. Direct playback on the PC from remote recorders is possible. It features graphical analyses of call data.
Araña web interface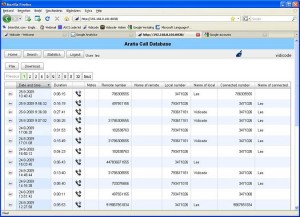 Use Araña to access the recordings of the call recorder via a web interface. You can view a list of recordings, download them, and send them by e-mail. With Araña, you can also make a full back up of the recordings. Araña can run on a server and provides an interface in the form of web pages. The multi-user version allows access to the call recorder by multiple users at once, via web browsers on their PCs.