Call Recording
As the saying goes: "A spoken word is like a moment in time, as quickly as it is said, it is forgotten". In many situations occurring in everyday business life, you do not want to forget what was said and by whom.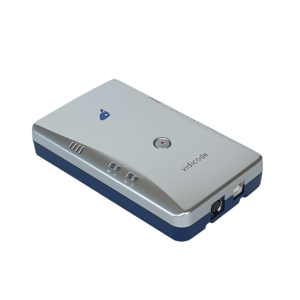 What is the most suitable call recorder for your situation? This depends on:

• Telephony protocol (VoIP, Analog, digital, ISDN)
• The storage you prefer (internal SD-card, internal HD, cloud storage)
• The capacity you need (1 telephone line, 4 lines, 8 lines, 100+ lines)
• Other requirements (DECT, headsets, soft phones, Microsoft Teams)
---
Apresa is a multi-channel and versatile call recording solution.
It can record 100+ channels from VoIP/SIP, Analog lines, ISDN PRI and TDM.
Also available as virtual server.
---
V-Mic is an audio recorder.
It stores the recordings on an SD card and can upload them automatically. V-Mic has a built-in microphone, but you can connect external microphones as well.
---

Fax Solutions
Vidicode sells fax solutions, not faxes. Although email has become more and more important, fax traffic still is indispensable for many organisations who use faxes as legally admissable documents. Integration of faxes and email combines the speed and ease of emailing with the advantages of faxing. This is exactly what Vidicode fax solutions are all about. The best of both worlds.

Voice Response
A Vidicode Voice Server or Announcer can be the solution for telephone accessibility problems. Many businesses and public institutions are hard to reach. Clients may not try again, call another company, file a complaint and your businesses service levels could be disputed. A simple change in the way the company's telephones are answered could change this situation for the better. Vidicode Voice Server and Announcer solutions offer this possibility, without the need to make changes in your organisations telecom structure.