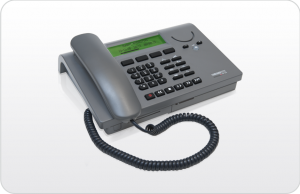 Suppose you could merge freedom with security
Do you need a telephone with an integrated Call Recorder?
Do you need reliable recording and automated backup?
Do you want an optimal fitting recording solution?
The FeaturePhone 175 SD operates in the same way as any analog telephone with the advantage that all calls can be automatically recorded. The Featurephone 175 SD is an advanced telephone with features like an internal telephone directory of 500 names and numbers, the possibility to attach a headset and use handsfree. The FP175 SD can also be used as an answering machine or as a digital memo or meeting recorder. Connecting a microphone is a possibility, but the Featurephone 175 SD also has a built in microphone. The graphic display provides help with all functions enabling you to actually use the many features provided.
Search and find recordings quickly
The FeaturePhone 175 SD is like a database. With the included PC software, SD Access system, both the actual telephone and your PC can search the SD-card quickly using a range of criteria such as telephone number, date, time and duration of a call. Irrespective of the fact whether you use the FeaturePhone 175 SD or your PC, it will always be very easy for you to find the relevant call quickly.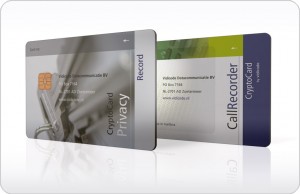 Secure
The FeaturePhone 175 SD is equipped with an IC Card reader. Using the CryptoCard, available as an option, the recordings can be encrypted. Without a corresponding CryptoCard and pin code the encrypted recordings cannot be played back. This is not only a professional way to protect the calls, but is especially useful to protect the privacy of the people involved.

Features
• FSK and DTMF caller ID detection
• Telephone with integrated Call Recorder
• Manual or automatic backup on SD-card
• Playback via handset, headset or internal speaker
• Capacity of 170 hours per GB on SD-card
• Quick SD Access software
• Password protection of recordings
• Recordings can be attached to an e-mail
• Answering machine function, messages are recorded
• Optional recording announcement
• Optional 'beep' during recording
Specifications
General
• Ambient temperature: 0 – 40°C
• Size: 26 x 23 x 8,5 cm
• Weight: 1000 gram
• Power: 120V – 230V ~ 50Hz – 60Hz, consumption 5W
Connections
• Telecom connectivity: POTS on RJ10 + RJ12 (in-out)
• Audio connectivity: Headset on 2pcs 3,5mm mini jack
• Miscellaneous: internal speaker
Technical approvals
• EMC: EN55022 ClassB EN55024 ClassB FCC15 subpartB
• Safety: EN60950
• Telecom: TBR21