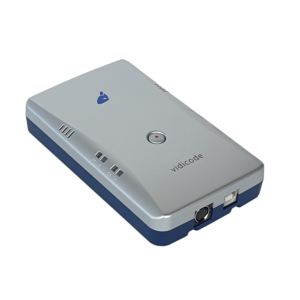 Your telephone recordings stored and forwarded
The V-Tap VoIP is a hardware and software solution for the recording of telephone calls that are transported over an IP network. The supplied hardware unit filters the network traffic, wraps the sniffed data into a special tunnel-format and stores it onto an SD card. The V-Tap VoIP can operate therefore stand-alone. The captured data can then be sent back over the network to an external server. This server can be a Call Recorder Apresa (running on Linux) or by the V-Archive software (running on a Windows PC). The external Apresa recorder or V-Archive software can both interpret the Tunnel-format and make playable audio files from it, together with the original date, time and call number information (meta-data).
By default, the V-Tap VoIP functions as a normal switch that allows 4 Ethernet connections. This makes it possible to connect 3 VoIP phones directly and use one port for connection to the network.
It is also possible to connect the output of another switch, when more than 3 phones must be recorded. A VoIP phone can also be a softphone running on a PC; recording is then achieved by simply wiring the PC's network through the V-Tap VoIP. Port mirroring is done internally.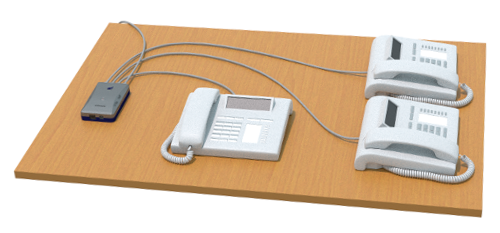 In the case that no SD card is inserted, the sniffed data is sent live over the network to the Apresa recorder or V-Archive software.
With an SD card inserted, the sniffed data is stored as files on the card. Depending on whether a Tunnel has been defined or not, the files are sent over the network or can be read later by the V-Archive software.
By using the SD card (FAT32 formatted), the V-Tap VoIP can operate completely stand-alone and can store data for weeks or even months, depending on the capacity of the card.
The internal settings of the V-Tap can be accessed through a web interface by any browser.
The models V-Tap VoIP 1 and V-Tap VoIP 2 both have 100 Mbps Ethernet ports. The V-Tap VoIP 2 further has extra proxy modes to make another way of call recording possible, for example to record every telephone call from a FRITZ!Box®. For the proxy mode, an optional proxy license is required.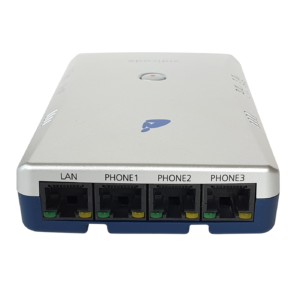 Specifications
Product: V-Tap VoIP
Article Number: 010.02500
Call Recording: VoIP
Ports: LAN, PHONE1, PHONE2, PHONE3 (all RJ45 ports).
Switching: L2 switching on all Ethernet ports.
PoE Bridge: PoE passively bridged from PHONE2 to PHONE3 or from PHONE3 to PHONE2.
Note: if the cable carries PoE, it is bridged to the other port. The V-Tap VoIP does not generate PoE by itself.
SD Card storage: For normal G.711 VoIP calls about 12 hours per 1 GB. For normal G.729 VoIP calls about 24 hours per 1 GB.
USB Version: V2.0 High Speed (480Mbps)
USB Profile: Generic HID (VID_0DE1 & PID_5101 or PID_5102)
USB Current: 5V @300mA (Max. 2W)
USB Connector: Full size 'B'- type
Button: One button, see manual for button functions.
LEDs: Four LEDs, see manual for LED functions.
Dimensions (L x W x H): 137 x 81 x 30 mm
Housing material: Silver and Blue, 4 pieces soft rubber footpads.
Weight: 150 grams
Temperature Range: 0 – 40 °C
Humidity Range: 10 – 90 %, non-condensing
EMC: EN 55022:2010 / AC:2011 Class B , EN 55024:2010
Safety: EN 60950-1:2006 + A11:2009 + A1:2010 + A12:2011
RoH: EN 50581:2012 (RoHS2) , RoHS Directive 2011/65/EU



---
FRITZ!Box telephone call recording including DECT phones using the V-Tap VoIP

The V-Tap VoIP 2 is able to record all telephone calls from any phone connected to the FRITZ!Box, regardless of the type of telephone: VoIP, Analog, ISDN, DECT and wireless LAN. An optional proxy license is required. Read more…