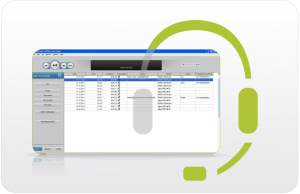 Headset Recording solution for recording calls on your PC

• Recording software for Windows
• For softphones and headsets
• Free trial version available

Vidicode's Oygo Call Recording solution uses advanced technology to record from virtually any headset / Soft-Phone combination. Oygo automatically stores all recordings on your PC. The software displays the recording archive as searchable list. The recording properties like date and time of the recording are stored with the actual recording and can be viewed in the archive. Recordings can be played back, e-mailed, exported or copied to other archives. Advanced searches can be made to find recordings quickly or to get a clear picture of the amount of recordings. Archives can be combined in one database for supervisors or group managers. For security reasons recordings can be stored encrypted or protected against unauthorised playback or deletion with a password. This Call Recording solution can be used in any kind of organisation or small business.

Softphones


The Oygo is able to record calls from softphones. This works for practically any softphone and headset you have.



Other phones


The following headsets are supported if you want to record from other phones:

Jabra:
JABRA PRO 9450
JABRA PRO 9460
JABRA PRO 9460 DUO
JABRA PRO 9465 DUO
JABRA PRO 9470
Jabra Engage 75

Other:
Emotion W880 (IPN Telecom)

If your headset is supported, the Oygo records telephone calls from:
• a desk phone
• a mobile phone with Bluetooth connection

In addition, if your headset is supported, start and stop detection of telephone calls is available when you use the Oygo. The software starts or stops a recording when you press a button on the headset (or on the Jabra Speak 750).
---
Free Trial
Request a free 14 day trial license of the demo version:

Oygo Software for Windows
Download the Oygo software and activate it using the key you'll receive after purchase. You can start recording right away.




The Oygo records and archives telephone calls that are made using a headset, if the audio is streamed to an audio device on the pc. The Oygo also records from softphones. When using a softphone, Oygo can record both sides. When the Oygo is used with another type of phone, the headset needs to support the recording option.
The following headsets are supported:
Jabra:
JABRA PRO 9450
JABRA PRO 9460
JABRA PRO 9460 DUO
JABRA PRO 9465 DUO
JABRA PRO 9470
Jabra Engage 75
Other:
Emotion W880 (IPN Telecom)
If your headset is supported, the Oygo records telephone calls from:
• a desk phone
• a mobile phone with Bluetooth connection
Features
• Automatic recording or recording on demand
• Advanced search on: date, time, duration, notes, name and device
• Import and export of complete archives for backup purposes
• Playback and e-mailing of recordings
• Automatic update of call listing
• Password protection of recordings
• User specified display of call listing
• Notes field and Names field
• Telephone number detection (only for Skype for Business)
Specifications
• Works with virtually any headset / Soft-Phone combination.
• Special connectivity for Jabra Engage, Jabra PRO™ series and E-Motion W880 headsets
• Special connectivity for Jabra Speak 750 speakerphone
• Ideal recording solution for Jabra Engage 75 headset
• Stores 180 hours of conversation per GB free disk space on the PC
• Currently supports over 10 languages
• Can be installed on: Windows 7 / Windows 8.x / Windows 10


---
| | | | |
| --- | --- | --- | --- |
| Oygo for softphones | | Oygo for headsets | Oygo for headsets and smartphones |