Uw gesproken woord efficiënt naar de scribe of uw assistent
Het laten uitwerken van een consult door een scribe of assistent bespaart de arts veel tijd en administratieve rompslomp. Echter om een scribe altijd bij het consult aanwezig te laten zijn kan ongemak geven bij de patiënt. De V-Mic biedt een ideale tussenweg omdat de arts kan bepalen of hij of zij gebruik maakt van het registreren van het consult of niet.
De V-Mic is een zelfstandig opname-apparaat dat met slechts één knop bediend wordt.
Hoe werkt de V-Mic oplossing in de praktijk:
Hoe werkt de V-Mic oplossing in de praktijk:
• De arts start de geluidsopname met een druk op de knop
• Het consult wordt met de patiënt gevoerd
• Eventuele extra instructies worden mondeling ingesproken
• De opname wordt met een druk op de knop weer gestopt
Eén of meerdere V-Mic's sturen de registratie naar keuze via een vaste netwerk- aansluiting of via WiFi naar een PC met de bijbehorende V-Archive software. Uw scribe maakt vervolgens het verslag. Voor grotere organisaties kunnen meerdere V-Mic's de opnamen in een centrale beveiligde database (Apresa) opslaan die via een webbrowser benaderbaar is.
Kenmerken V-Mic:
• Audio-opname met ingebouwde of externe microfoon
• Eenvoudige éénknopsbediening
• Eigen opslag op SD-kaart en archivering op de PC of server
• V-Mic ondersteunt encryptie en beveiligde toegang
De V-Mic en de software kunnen ook gebruikt worden voor spraak-naar-tekst toepassingen.
Software
V-Archive
V-Archive is PC software waarmee opnamen van Vidicode recorders en dus ook de van de V-Mic veilig worden gearchiveerd. V-Archive maakt het mogelijk om de opnamen snel terug te vinden en af te spelen. Meerdere recorders kunnen de opnamen in één centrale V-Archive opslaan. Uiteraard is het zo dat de opnamen versleuteld kunnen worden opgeslagen en toegang tot het programma beveiligd is.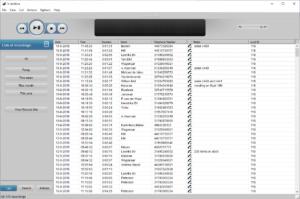 Lees meer over V-Archive (Engels) …


---

Apresa
Apresa is de centrale recording / archiving oplossing van Vidicode die bijzonder geschikt is voor middelgrote tot grote organisaties voor het beheer van opgenomen telefoongesprekken of audio opnamen. Apresa draait onder Linux en is een servertoepassing die vele mogelijkheden biedt voor importeren, beveiligen, zoeken, afspelen en archiveren van opnamen.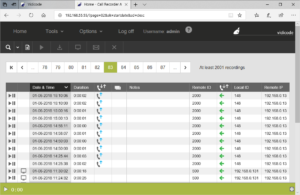 Apresa webinterface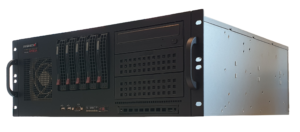 Apresa Server

Lees meer over Apresa (Engels) …
V-Mic Manual (Engels)
V-Mic Quick Guide (Engels)