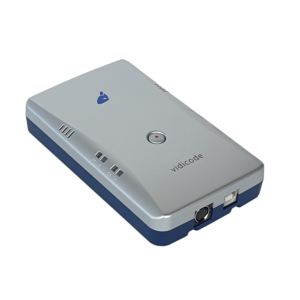 • Record all your FRITZ!Box® telephone calls and store them safely and centrally.
• Search for recordings by telephone number, date and time.
• Comply with privacy regulations with more ease.
• Access your recordings from anywhere in the world.
The V-Tap VoIP + Proxy is a hardware and software solution to record telephone calls from any phone connected to the FRITZ!Box®, regardless of the type of telephone: VoIP, Analog, ISDN, DECT and wireless LAN. The supplied hardware unit receives the digital data coming from the FRITZ!Box® and can copy the data back to the network or stores the data directly onto an SD card. In both cases the data is wrapped into a special Tunnel-format that can be received by the Call Recorder Apresa (running on Linux) or by the V-Archive software (running on a Windows PC). The external Apresa recorder or V-Archive software can both interpret the Tunnel-format and make playable audio files from it, together with the original date, time and call number information.
This V-Tap VoIP + Proxy package contains:
• V-Tap VoIP hardware
• V-Archive
• Recording license for use with PC software (1 channel)
• Proxy license

Download: V-Tap VoIP Manual

Note: The "New telephone number" option has to be available in the built-in PBX of your FRITZ!Box®.


FRITZ!Box telephone call recording including DECT phones using the V-Tap VoIP

V-Tap VoIP + Proxy is able to record all telephone calls from any phone connected to the FRITZ!Box, regardless of the type of telephone: VoIP, Analog, ISDN, DECT and wireless LAN. Read more…