Apresa Tapping PatchBox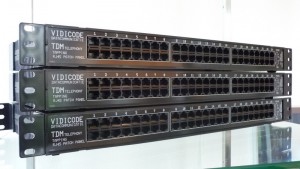 Never get your wires crossed again. Use the Tapping PatchBox
The Tapping PatchBox is developed to make it easier to connect the Apresa Call Recorder to the phone system.
When using an Apresa Call Recorder to record from analog lines, TDM (digital) lines or when you record from another type of audio source (e.g. radio) special recording cards are used in the Apresa. The cards come with a standard RJ11 connection box or the installer can use an (optional) open-ended Krone cable.
Experience showed us that this is not always the best way to connect and it led to sometimes "messy" connections with more chance of mistakes in wiring.
Therefore we decided to introduce the Tapping PatchBox; A tailor-made connection panel for the Apresa. By using the Tapping PatchBox you will save valuable time, prevent mistakes and keep the connections clear for everybody. No need for T-splitters or other "self-made" cables.
What makes the Tapping PatchBox different than a standard patch panel?
The Tapping PatchBox is designed for one purpose; to connect phone and audio outputs to the Apresa card input. With a standard patch panel or Krone panel you still need to do your own wiring to the Apresa. The Tapping PatchBox comes with a RJ21 cable directly connected onto the Tapping PatchBox that feeds into the Apresa recorder. It requires no configuration and is completely passive.
Therefore connecting for instance 24 phones should not take more than 10 minutes.
Two models to cover all needs
Digital phone-lines (internal TDM or ISDN) are not always the same. Basically there are two types; 2-wire and 4-wire lines. To accommodate for this the Tapping PatchBox is available in two models:
090.05565 Tapping Patchbox 2-wire TDM / Analog (POTS) / Audio input
090.05560 Tapping Patchbox 4-wire TDM / ISDN basic rate input / 4-wire analog radio
Specifications:
Lines tapped        : 24 (both models);
Input Connector   : 2x RJ45 1:1 wiring;
Output connector : RJ21 for connecting the Apresa Call Recorder;
Size (WxDxH)      : 483 x 204 x 44.45 mm , 19 inch compatible, 1U rack usage;
Power supply       : No power required.