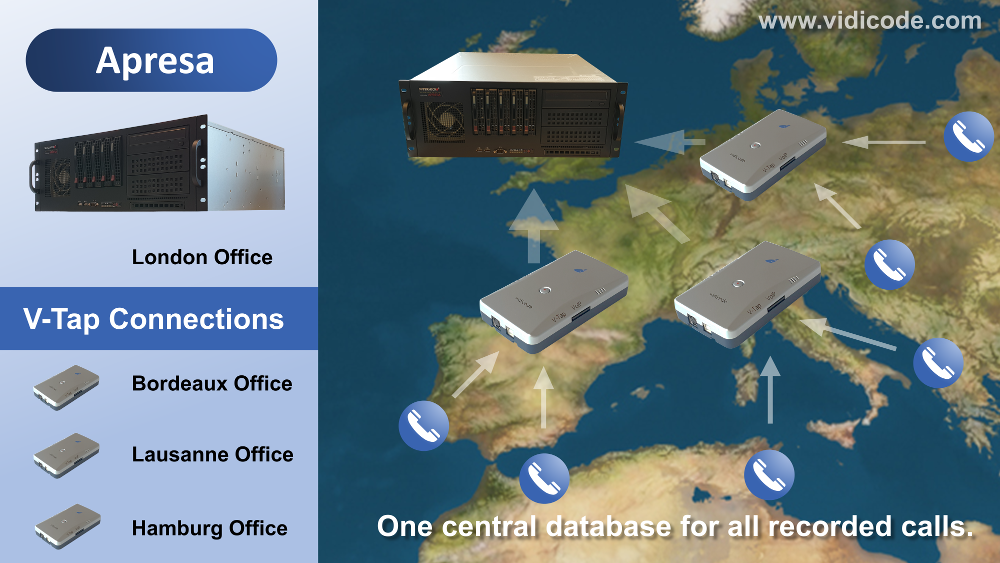 V-Tap units and the Apresa recording system can combine local flexibility with central organized reliability in a perfect way. Recordings made by local V-Tap units can be transported safely via a secured tunnel and stored encrypted in the central Apresa database. This can be done over LAN, WAN or even the internet.
A cost-effective concept:
• Record phone calls at multiple locations with V-Tap devices
• Use Call Recorder Apresa as a central database.

Apresa supports secure multi-user access. It has advanced features to meet privacy regulations. It runs on premise, but is designed to run in the cloud as well. V-Taps are available for VoIP, Analog and ISDN. See V-Mic for audio recording with built-in or external microphone. The V-Mic device can also upload to Apresa.
• Call Recorder Apresa
• V-Tap VoIP
• V-Tap Analog
• V-Tap ISDN BRI and V-Tap ISDN PRI
• V-Mic audio recorder with built-in microphone.