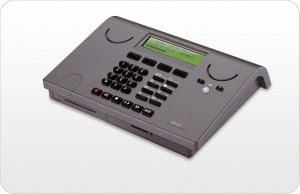 Single Digital SD2750
This digital TDM / ISDN Call Recorder can be used on UP0 protocols like Siemens, Avaya, Philips, Aastra DETEWE protocol and on ISDN. The Digital SD2750 has an internal flash disk and a network connection. The Single Digital also has an optional SD card and archiving software. The Single Digital with the SD card option activated is Siemens certified. It has been tested by Siemens on their Hipath 3000 and 4000 communication systems and passed all tests.
The certification was initiated by Speech Enterprise GmbH, a company that is one of Vidicode's German distributors. Speech Enterprise GmbH sells the Call Recorder Single Digital 2750 as 'fileACall Office Digital'. The test reports Hipath 3000 and Hipath 4000 can be downloaded below.
---
Optional Software
Call Recorder Access System
The Call Recorder Access System (CRAS) is a solution to manage massive recording databases. Direct playback on the PC from remote recorders is possible. It features graphical analyses of call data.
Araña web interface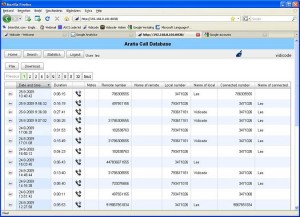 Use Araña to access the recordings of the call recorder via a web interface. You can view a list of recordings, download them, and send them by e-mail. With Araña, you can also make a full back up of the recordings. Araña can run on a server and provides an interface in the form of web pages. The multi-user version allows access to the call recorder by multiple users at once, via web browsers on their PCs.
Secure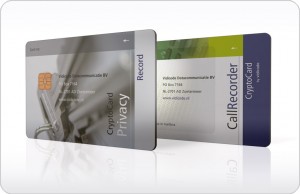 The Call Recorder Single Digital is equipped with an IC Card reader. Using the CryptoCard, available as an option, the recordings can be encrypted. Without a corresponding CryptoCard and pin code the encrypted recordings cannot be played back. This is not only a professional way to protect the calls, but is especially useful to protect the privacy of the people involved.


Features
• 16 GB internal flash disk
• Optional removable SD card
• Network connection
• Internal speaker
• Optional Quick SD Access software
• Optional encryption
Specifications
• Power: 90-264V ~ 50/60Hz
• Ambient temperature: 0 – 40 ºC
• Size: 26 x 19 x 5.5 cm
• Weight: 1000 grams
• Recording formats: GSM 6.10 – 13kbps G.711
Connections
• Power: 10V DC
• Telecom: 2 x RJ45 (in-out) for UP0 and S0
• Headset: 2 x 3.5mm Jack
• Ethernet: 10-BASE-T / 100-BASE-T RJ45 UTP
• Serial: MiniDIN 8P Female RS232
• Switch: 3.5mm mini-jack / 8 p miniDIN
• CryptoCard reader (front)
Technical approvals
• CE: 55022/55024
• Safety: EN 60950