• Neemt audio op van ingebouwde of externe microfoon
• Met één knop te bedienen
• Werkt stand-alone en bewaart opnames op een SD-kaart
• Stuurt opnames indien gewenst naar PC of server
• Ondersteunt encryptie en beveiligde toegang

Download V-Mic handleiding (Engels)
Download V-Mic Quick Guide (Engels)
Download V-Archive
Zie ook: V-Mic voor artsen


Inhoud
• V-Mic
• V-Archive PC-software voor windows
V-Mic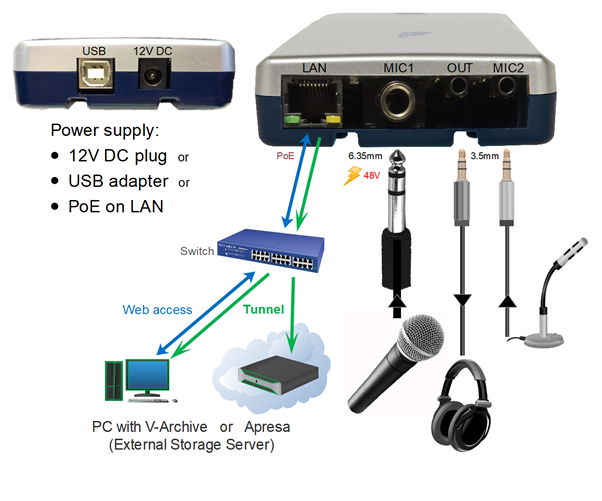 De V-Mic is het nieuwste lid van een serie slimme recorders die zowel stand-alone kunnen werken alsook gecombineerd kunnen worden met een centraal opslag-archief.
De V-Mic is een netwerk interface met ingebouwde microfoon en de mogelijkheid om ook externe microfoons aan te sluiten. V-Mic slaat de opnamen op een SD kaart op, waarna ze via het netwerk of een Wi-Fi verbinding naar een PC of een centrale APRESA recorder worden verzonden.
V-Mic recorders kunnen voor allerlei doeleinden worden ingezet, bijvoorbeeld als "Room-monitor" in spreekkamers van banken, ziekenhuizen, klinieken of gemeenten, om gesprekken met cliënten of patiënten vast te leggen. In veel gevallen is het erg nuttig – en soms zelfs verplicht – dit soort gesprekken vast te leggen. Voor de V-Mic hoeft er geen bekabeling te worden aangelegd, een netwerk of Wi-Fi verbinding is voldoende.
Een andere specifieke doelgroep zijn dokterspraktijken. Het opnemen van een consult, of het daarna inspreken van de bevindingen en de instructies voor de assistente, bespaart veel tijd en verkleint de kans op fouten.
De V-Mic kan, net zoals de V-Tap recorders, gebruikt worden met de V-Archive software voor Windows of samen met het centrale archief van de APRESA recorder. In beide gevallen is de communicatie tussen de V-Mic en het archief uiteraard versleuteld.

V-Archive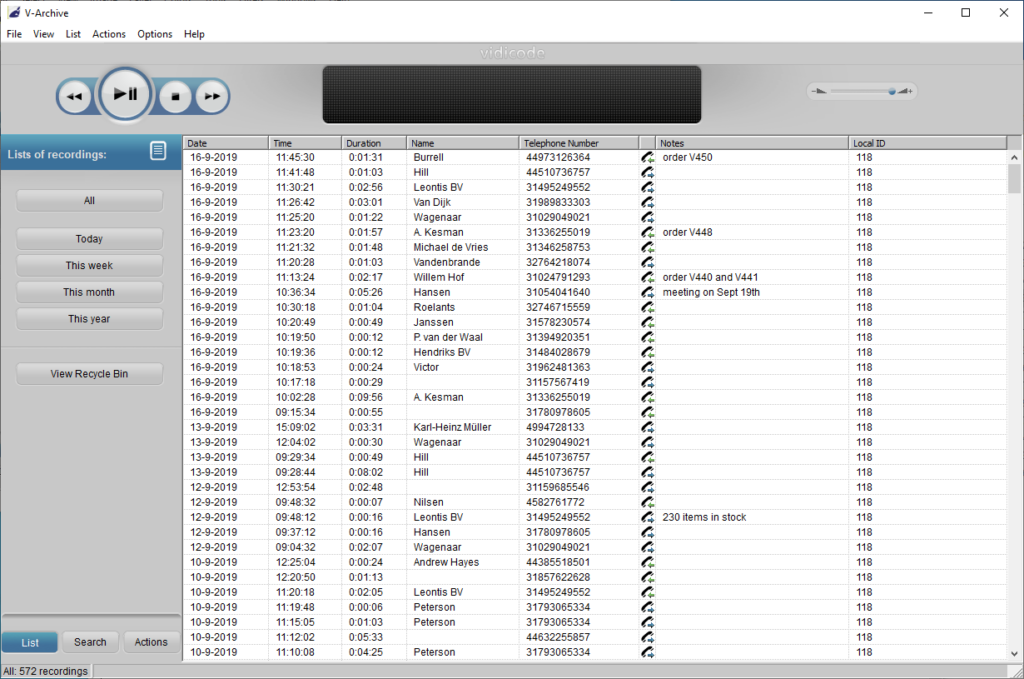 De V-Archive software importeert opnames van de V-Mic, maar ook van andere Vidicode producten zoals de V-Tap. Met de V-Archive kunt u al uw opnames in één centrale database opslaan.


V-Archive Features
• De V-Archive applicatie heeft een uitgebreide database en zoekfunctie. Eigenschappen waar u op kunt zoeken zijn o.a. datum en tijd, lengte, inkomende gesprekken, uitgaande gesprekken en telefoonnummers. Deze eigenschappen hebben elk een eigen kolom in de V-Archive. U kunt de opnames op eigenschap sorteren door op de kop van een kolom te klikken.
• De opnames zijn audiobestanden (.wav) die in GSM of G.711 formaat worden opgeslagen. Deze bestanden kunnen op bijna elke PC afgespeeld worden en gebruikt worden om de opnames met anderen te delen.
• U kunt een naam aan een telefoonnummer toekennen.
• U kunt bij elke opname aantekeningen maken en opslaan.
• De database kan met andere Vidicode producten gedeeld worden: Call Recorder Pico en Call Recorder Oygo.


Display van de V-Archive

• A: Terug
• B: Start of pauzeer het afspelen van de huidige opname die geselecteerd is
• C: Afspelen stoppen
• D: Vooruit
• E: Informatie over het afspelen van de huidige opname wordt hier weergegeven. Klik op de progressiebalk om naar een specifiek moment in de opname te gaan.
• F: Instellen van het afspeelvolume


Het V-Mic pakket bevat:
• V-Mic apparaat
• USB kabel
• LAN kabel
• SD kaart
• Quick Guide
• Download V-Mic manual (Engels)
• Download V-Archive PC software.
V-Mic Manual (Engels)
V-Mic Quick Guide (Engels)